This post was published more than a few years ago (on 2013-04-27) and may contain inaccurate technical information, outmoded thoughts, or cringe takes. Proceed at your own risk.
This app is UNAVAILABLE indefinitely, as it is incompatible with the current version of iOS.
---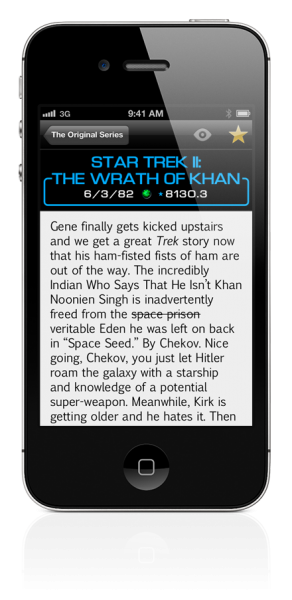 A fun and humorous guide to the all of the Star Trek™ adventures featuring the original crew! Helps you keep track of which episodes you've watched, and offers easy access to the comedy review podcast, the Post Atomic Horror.
You don't have to be a Trekkie to love this app: Let podcastronauts Ron "AAlgar" Watt and Matt Rowbotham be your guides to the incredible world of Trek — and listen to them joke while they watch the bad episodes, so you don't have to!
Buy it (in the past) on the App Store!
About the Post Atomic Horror
The Post Atomic Horror podcast was created as a direct result of AAl and Matt talking about Star Trek far too often on their first podcasting endeavor, Sarcastic Voyage. So they decided to do a whole other show entirely about Star Trek. Eventually this led to a solemn pledge, on the graves of their dead listeners, to review every canonical version of Trek that's ever existed, beginning with the original Star Trek pilot and extending — god help them — to the final episode of Enterprise™.
This app contains written content from their first book, The Post Atomic Horror Unofficial Episode Guide, volume one. The book also has bonus content, and artwork by Ramon Villalobos. Check it out!
Disclaimer
STAR TREK™ — Star Trek TM & © 2011 CBS Studios Inc. All rights reserved. STAR TREK and related marks are trademarks of CBS Studios Inc.
Release Notes
1.0
2012-03-30
Initial Release, compatible with iOS 4