This post was published more than a few years ago (on 2002-11-17) and may contain inaccurate technical information, outmoded thoughts, or cringe takes. Proceed at your own risk.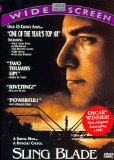 Mmm-hm. Reckon I'd like some o' dem french fried potaters. Mmm-hm.
Yes, yes. So I'm 6 years late to the "imitating that guy from Sling Blade" party. Sosumi. I like the way he talks. 🙂
"That guy" in question is Karl, a somewhat mentally unstable fellow played by Billy Bob Thornton, who also wrote and directed (talented bastard). As it turns out, Karl killed a fellow when he was around 10 years old. He thought his mom was being raped by the local teen bully, but after killing him, found out that his mom "didn't mind so much what he was doin' to her," and so… young Carl meted out justice to her in a similar fashion.
Fast forward about 20 years or so, and Karl is being released from the mental hospital where they've evaluated him as "well." He soon befriends a young boy, Frank (strikingly portrayed by Lucas Black), and soon after, his mother and her gay friend, John Ritter. AAlgar warned me, quoting Aerosol Nights, he might seem "lost, out of place," but I think he actually did a commendable job convincing me that he was "living gay."
We're also introduced to Frank's mom's current boyfriend (Dwight Yoakam, being a total dick), through Frank's first few words about him, telling Karl he hurts her sometimes. This seemed to be pretty obvious early foreshadowing the inevitable consequences of someone hurting someone else Karl cares for, but there was still the chance of redemption balancing out the weight of Karl's past.
This is a character-driven film, and Karl's character was always interesting. Just when you start to relax about Karl being around this young boy, Karl offhandedly dregs up another horrific piece of his past, raising the tension back up, and eventually forcing you to wonder if perhaps Karl's father (a crazy ol' Robert Duvall) should have been the one thrown in the mental hospital.
Throughout, the cinematography is simple, but effective. The writing is excellent, and compelling to the end. Even with the music that's sometimes so annoying it pulls you out of the scene, a highly recommended film.

:: 1996 :: dir. Billy Bob Thornton ::

DVD features include… umm… the option to have Karl reckon he likes them pommes frites instead. Mmm-hm.