This post was published more than a few years ago (on 2003-12-12) and may contain inaccurate technical information, outmoded thoughts, or cringe takes. Proceed at your own risk.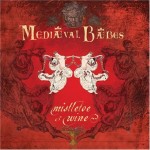 Just testing to see whether Smarty Pants will translate the "ae" in their name to the "æ" ligature glyph. [Update: It doesn't.]
In any case, the Mediæval Bæbes are definitely worth a listen. I'm looking forward to getting their holiday album, Mistletoe & Wine.