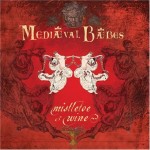 Just testing to see whether Smarty Pants will translate the "ae" in their name to the "æ" ligature glyph. [Update: It doesn't.]
In any case, the Mediæval Bæbes are definitely worth a listen. I'm looking forward to getting their holiday album, Mistletoe & Wine.
You should check out my podcast about movie magic and VFX: The Optical.