This post was published more than a few years ago (on 2004-08-13) and may contain inaccurate technical information, outmoded thoughts, or cringe takes. Proceed at your own risk.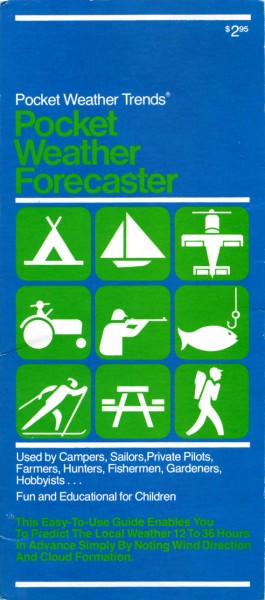 Have any of you ever seen this? I came across it when I was doing some "spring cleaning." — It's a little paper weather forecaster with cutouts and a sliding paper chart for your region of the country inside. The idea is that you line up the paper with what kind of clouds you see, and what direction the wind is blowing, and you get a forcast for the next 12-36 hours. I recall getting this when I visited the Wright brothers' museum in Kitty Hawk, NC when I was a kid. Can't say I admit to using it much, but it still seems like a pretty cool little dingus.
If anyone knows who makes these now, I would be very interested in hearing about it. I looked up the various copyright bylines online ("Cover Design ©1979 Weather Products," inside page "©1974 Weather Trends, Inc."), but whoever they are, if they still exist, don't seem to have any sort of web presence.