This post was published more than a few years ago (on 2008-07-20) and may contain inaccurate technical information, outmoded thoughts, or cringe takes. Proceed at your own risk.
This is the boston shaker glass that I inherited from my great uncle, reconstructed after I recently broke it by dropping a bottle of Bärenjäger on it. If you have any idea where I could get a replacement, I'd love to hear about it.
Note, this is a QuickTime VR of the glass, so you can click and drag to the left or right to rotate the view.
[Much as I loved QTVR, the tech seems not to have made the transition to QuickTime X, so if you have a recent computer, you probably won't see anything unless you download it and try to play it in QuickTime Player 7, which does seem to still work! —Ed. 2015-08-15]
If you get it to work, it should look like this: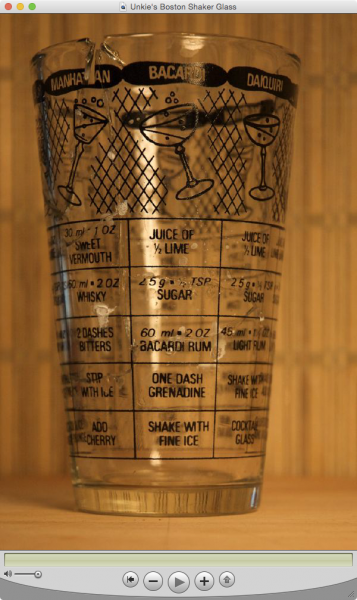 Click here for a video demo. (18MB)